After basic training at Ft Jackson SC, MSG E-8 Charles Bunner completed AMMO school at Aberdeen Proving Grounds in 1955 then served in South Korea as an E-3 and E-4 in two separate ammunition companies of the Eighth Army.  In 1956, he was assigned to an ammunition company at Ft. Knox, Kentucky.
It was near Christmas of 1956 that Charles was on his way home from Ft. Knox, Kentucky when he had to stop to have his 1951 Plymouth repaired. He got off Route near Louisville eventually correcting his route but it was late, pushing 3am, and he began to get very drowsy so he asked his passenger who was a fellow West Virginian from Elkins to take over the wheel. So, he drifted off as a passenger in his own vehicle while being taxied.
Charles said,
"I should have known better. We both served together and he certainly had no problems falling asleep."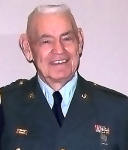 The next thing he knew, the passenger door came open and he fell onto the ground unharmed. He soon discovered his driver was not injured as well but the car had crossed a lane, went over a hill and smashed into a tree just off Route 60, near Moorefield, Kentucky. "We hitchhiked home from there," said Charlie, "and needless to say that was not my best Christmas."
Charlie went on to serve at Ft. Knox until 1957 but spent most of the two summers at Camp Breckinridge, Kentucky mostly supporting National Guard Units with conventional ammunition for their required training that also included our 201st of Fairmont/Marion County.
In 1959, Charlie was promoted to Specialist Fifth Class while at Ft. Richardson. From Alaska, where he had volunteered to be in the Explosive Ordnance Disposal School (EOD) located South of Washington, D.C., he went to Aberdeen Proving Grounds to attend the Combined Armed Forces EOD School in 1960. Charlie traveled all over the world including Germany and Italy while serving as a Specialist Fifth Class and was promoted to Staff Sergeant E-6 in April 1966, during his assignment to an Eighth Army Depot Unit in South Korea.
While in Vilseck, Germany, Charlie learned he was going before a board for a promotion for E-7 although it had only been seven months since his last promotion. It wasn't long he became rostered on the United States Army Europe as an E-8. In Vietnam, May 1969, with 15 days remaining on his enlistment, he had become an Operation Sergeant E-7. Then, in July of the same year, he was quickly promoted again to Master Sergeant E-8 on an extended enlistment. In December of 1969, he reenlisted and served until September 1, 1974.