Designed to carry cargo, personnel, mechanical equipment, litter patients, and to drop cargo and troops by parachute, the American military transport aircraft developed in the WWII era from the Fairchild C-82 Packet that became known as the "Flying Boxcar" was…
the Fairchild R4Q-2. The first, the C-119, made its initial flight in November 1947 and by time production ceased in 1955, more than 1,100 were built. The Flying Boxcar earned its nickname because of its unusual twin-boom design and its ability to haul so much cargo.
The aircraft was utilized extensively during the Korean War as a troop and equipment transport.
Although the flying boxcar was infamous for dropping down 8 sections of 2 ton bridge treks to aid troops to cross a deep gorge in Chosin during the Korean War, It was eventually realized that C-119 aircraft was not as robust as some older cargo aircraft types. The stability of the aircraft had been rated as poor, and the C-119 had continual problems with engines, propellers, and violent stall characteristics. Users of the aircraft had reported engine mount, control lock, and landing gear failures. Most distressing was the accident rate of the C-119, which was up four times higher than other transport types. In March 1951, the right engine on two different C-119s fell off while the planes were in flight. Later, in response to a rash of cracked propellers, FEAF immediately grounded the aircraft and recommended complete reconditioning. In February 1953, WADC engineers redesigned the propeller regulators, which seemed to resolve the problem.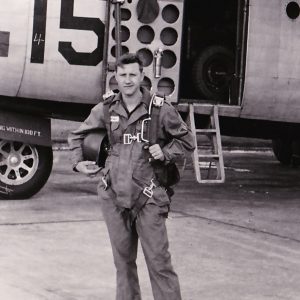 First LT James M. Constable had to eject from a fallen flying boxcar during his service and was severely injured, lost and walked a good distance in pouring rain with a severed thigh before he was found and brought to rescue. He lost his whole crew in the wreckage. He said that his leg was severely infected for several weeks while he served.
He also said,  "It's a small world when you can sit in the middle of nowhere and be eating a sloppy meal that just got doused by rain in total darkness with nearly 500 or so soldiers surrounding you and all of the sudden you hear someone in the distance exclaim, 'Man, I sure would love a Yann dog right about now!' "
About the Flying Boxcar
General Characteristics
Wingspan
105.5ft (32.2m)
Length
78.9ft (24.1m)
Height
18.3ft (5.6m)
Empty Weight
5,037lbs (2,285kg)
Loaded Weight
45,726lbs (20,741kg)
Performance
Horse Power/Weight Ratio
0.087
Wing Loading
36.9lbs/ft2 (180.2kg/m2)
Wing Area
1,238.8ft2 (115.1m2)
Drag Points
6829
Parts
Number of Parts
70
Control Surfaces
6