A World War II Veteran Louis J. "Zeke" Trupo of Bridgeport escaped a near fatal Japanese sniper bullet by deflection from his Bible and spoon that was stashed in his shirt pocket just above his heart.
Louis grew up in Clarksburg and as a student of Salem College enlisted in the U.S. Marine Corps in 1942. He served as a radio/telephone communications specialist in the Pacific. With the Fourth Marine Division, he survived four battles. The first two, ROI-NAMUR in the Marshall Islands and SAIPAN of the Mariana Islands, he was not injured. In July 1944, at Tinian in the Mariana Islands (the base where the allies loaded B-29s with the atomic bombs dropped on Hiroshima and Nagasaki August 1945 leading to the empire's eventual surrender and the war's end), American forces were actively seeking control of the island when Trupo was sitting in the command post on the last day of the battle and all of the sudden he felt a blow to his chest that knocked him over. He realized he needed to do as he was taught, so he stayed down and crawled into a dry cesspool where he remained until a fellow Marine carried Trupo out to safety. From there, he was airlifted to Saipan, where a corpsman would remove the remainder of the bullet from his chest. "The bullet split in two when it hit my dog tags around my neck and a spoon that was in my shirt pocket", Trupo said.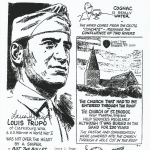 Some of the bullet then went through a thick prayer book in his pocket before becoming lodged in his chest, while some of it ricocheted and passed through his right thigh. He spent about a week in the makeshift hospital tent recovering on a blanket on the ground as a bed. Then in February 1945, at IWO JIMA, in a five-week battle, a Japanese mortar round landed near Trupo while he was with the colonel guarding the front-line command post, spraying him with shrapnel and other debris. He was not hospitalized for those wounds. He received two purple hearts for his injuries from the battles of Tinian and IWO JIMA.
Trupo has remained an active member of the Clarksburg community. He has three children and is married to Ada Pinion. He was a maintenance foreman at Fourco Glass Company for 31 years. He was also a two-term president and founding member of the Harrison County Emergency Squad and volunteered for the ambulance service for 12 years where he was an emergency medical technician and first aid instructor. He has also served on the Bridgeport City Council and was a justice of the peace and Harrison County Magistrate. The Bridge on Lodgeville Road has been named in Honor of Louis J. "Zeke" Trupo.
He eventually met the man that carried him to safety at a Fourth Marine Division reunion in Minnesota. Ripley's Believe It Or Not has cited this near fatal escape.
Trupo said, "I go to church all the time and thank the Lord."