"I've always been an adventurer and to begin with, at around the age of sixteen, I was going to join the CCC…" (The Civilian Conservation Corps was a public work relief program that operated from 1933 to 1942 in the United States for unemployed, unmarried men from relief families as part of the New Deal.) "…but I wasn't old enough. When I was old enough, the war broke, so I wanted to go to war. The Merchant Marines wouldn't let me join because I had no experience, so I went across the street and signed up for the Navy and my Mother and Dad had to sign papers. I was not drafted.
I trained at Great Lakes, Illinois and went to Norfolk, Virginia for special training. Then I went to Camp Bradford (At first Camp Bradford was a training base for Navy Seabees, but in 1943 it was changed into a training center for the crews of LSTs or Landing Ship Tanks.) for special amphibious training and then we took shake down crews all over the Chesapeake Bay and the Gulf of Mexico", explained Seaman 1st Class Paul McCue.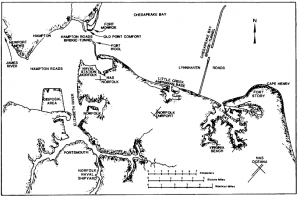 Camp Bradford was named by the U. S. after a Confederate Army officer. During World War II, Camp Bradford was about half of the present Little Creek Naval Amphibious Base. Between May 1943 and January 1944, over 100,000 troops were amphibiously polished at Bradford. Bradford's beaches were alive with activity. Early in January 1944 Bradford took a deep breath and plunged into the vital LST program. Hundreds and hundreds of LSTs were manned by the thousands of men trained at Camp Bradford. Bradford's training staff was comprised of Mediterranean assault veterans giving trainees the benefit of their earlier combat experience. A Secretary of the Navy letter in July 1945 disestablished the separate bases and established the Naval Amphibious Base, Little Creek with a commissioning date of July 30, 1945. In 1946 Little Creek was designated a permanent base.
"Then I was shipped to Jeffersonville, Indiana where I was put on an LST (Landing Ship Tank) that was 377 feet long and 55 feet wide. It was launched from Jeffersonville Indiana Shipyards in 1944 then we went down the Ohio through Mississippi River to New Orleans, Louisiana.
At Todd-Johnson Shipyard we took up a non-sea going assault boat that filled the deck of our ship. We got up in the middle of the night as a special skeleton crew to get through all those locks and the canal. Once we were through the Panama Canal, we dumped the boat off at one of the islands and from there, this is where all the action started, at all those islands south of the equator- assault landings that we handled more like Marines rather than Sailors because that took special amphibious training. Moving from islands close to New Guinea and Solomon, we moved on up into the Philippine Islands.
Then in the Philippine Islands, I remember very distinctly, we were somewhere near San Pedro Bay" (The Bohol Sea, also called the Mindanao Sea). "While in an edge of convoy, we were getting ready to make an invasion. I was on watch at the time on the starboard side in a gun tub with earphones on under watch to report anything I could see. All of the sudden, I heard an explosion coming from the opposite side of me- the port side.

We had about five destroyer escorts and their job was to protect us. One of those was lagging off the port side aft (toward the stern). Then I saw a bunch of water and steam and the depth charges all peel off that ship that got hit." (A depth charge is an anti-submarine warfare weapon. It is intended to destroy a submarine by being dropped into the water nearby and detonating, subjecting the target to a powerful and destructive hydraulic shock. Most depth charges use high explosive charges and a fuze set to detonate the charge, typically at a specific depth. Depth charges can be dropped by ships, patrol aircraft, and helicopters.)
This tragedy stuck in Paul's mind for several years, so about eight years ago he decided to seek answers. A friend that was also on the same LST working in the engine room at the time sent him some declassified information regarding this incident about six years ago. He learned the name of the destroyer ship was 499- Renshaw. But, he still did not find out the casualties and details until about a year ago when his nephew revealed the information to him.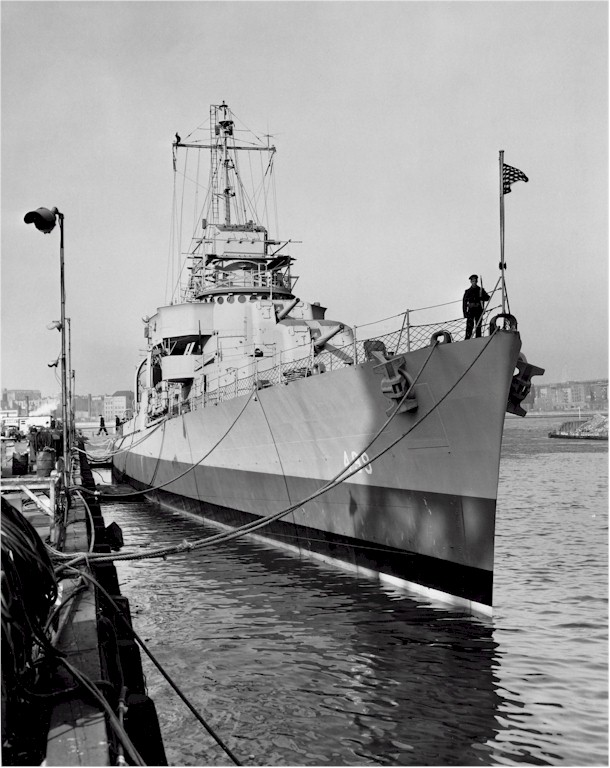 "The skipper had to do that instantly because at the same time he reported to us about the torpedo, the boat speeded up and intercepted. There were 19 casualties and 20 injuries. That could have been our ship. A lot of debris landed on our ship. I probably would not have been here today if it wasn't for that destroyer. They ended up nicknaming that body of water Suicide Straits because of the losses. We had a crew of 117 with an additional couple hundred soldiers."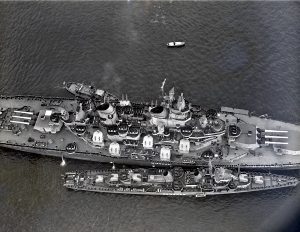 On February 21 1945, Renshaw was struck by a torpedo from an enemy submarine, about 10 feet (3 m) below the waterline, flooding the firerooms while in the Mindanao Sea. The ship lost all power. Bulkheads and decks were fractured and the explosion also warped a large section of the hull. Within a matter of minutes, damage control parties had the flooding reduced by half but still lost 19 men and 20 were injured. Through their efforts they were able to maintain the main propulsion machinery. She managed to get under way again, and was escorted to San Pedro Bay by Rudderow where she received temporary repairs and then under her own cognizance went to Todd Pacific Shipyard in Tacoma, Washington for permanent repairs.
Paul said he's one of about 5 or 6 living original crewmembers of the LST 719 from that era and he is probably the only one remaining that still travels. He's in the past reunited with these crewmembers and wishes to go visit the LST 325 Memorial in Evansville, Indiana soon. Paul is a 91 years young Combat Navy Veteran that received the Philippine Defense and Liberation Medals.
Seamen and their Battleships
This ship is the LST 719  (Landing Ship Tank). Seaman 1st Class Paul F McCue served in the
U.S. Navy Amphibious Forces on the LST 719 that started in 1944 at the shipyard in Jeffersonville, Indiana. From there it traveled on the Ohio and Mississippi Rivers to New Orleans, Louisiana at the Todd -Johnson Shipyard. After leaving, they traveled to the Panama Canal then to the South Pacific across the equator. After crossing the equator it traveled to New Guinea, Solomon Island and the Philippines.
Details:
USS LST 719 (LST 719)
Tank landing ship of the LST (Mk 2)
Type Tank landing ship
Class LST (Mk 2) The US Navy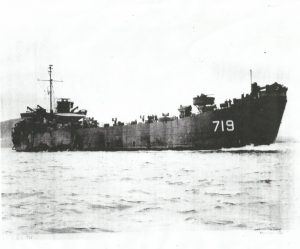 Commanding Officers
01
LT. Kavorinos, Frank Antone, USNR
08/31/1944 – 06/14/1945
02
LT. Ingram, John H., USNR
06/14/1945 – 11/23/1945
03
Swanstrom, Willis Edgar USN
11/23/1945 – 07/12/46
Pennant LST 719
• Built by Jeffersonville Boat and Machine Co. (Jeffersonville, Indiana, U.S.A.)
• Ordered 26 Jul 1943
• Laid down 24 Jun 1944
• Launched 8 Aug 1944
• Commissioned 31 Aug 1944
• During World War II USS LST-719 was assigned to the Asiatic-Pacific Theater and participated in the following campaign:
Asiatic-Pacific Campaigns
Campaign and Dates
Consolidation and capture of the Southern Philippines
Palawan Island landings-
1 to 2 March 1945
Visayan Island landings-
17 to 23 April and 10 to 16 May 1945
• Following World War II USS LST-719 was assigned to Occupation and China service in the Far East for the following periods:
Navy Occupation Service Medal
6 November to 15 December 1945
16 December 1945 to 13 February 1946
China Service Medal (extended)
16 December 1945 to 13 February 1946
• End service 12 Jul 1946
• Decommissioned on 12 July 1946.
• Struck from the Naval Register, 14 March 1947
• USS LST-719 earned one battle star for World War II service
• Final Disposition, sold for scrapping, 4 November 1947, to Moore Drydock Co., Oakland, CA.

Specifications:
Displacement
1,625 t.(lt)
4,080 t.(fl) (sea-going draft w/1675 ton load)
2,366 t. (beaching displacement)
Length 328' o.a.
Beam 50'
Draft
light 2' 4" fwd, 7' 6" aft
sea-going 8' 3" fwd, 14' 1" aft
landing 3' 11" fwd, 9' 10" aft (landing w/500 ton load)
limiting 11' 2"
maximum navigation 14' 1"
Speed 11.6 kts. (trial)
Endurance 24,000 miles @ 9kts. while displacing 3960 tons
Complement
13 officers
104 enlisted
Troop Accommodations
16 officers
147 enlisted
Boats 2 LCVP
Cargo Capacity (varied with mission – payloads between 1600 and 1900 tons)
Typical loads
One Landing Craft Tank (LCT), tanks, wheeled and tracked vehicles, artillery, construction equipment and military supplies. A ramp or elevator forward allowed vehicles access to tank deck from main deck
Additional capacity included sectional pontoons carried on each side of vessel amidships, to either build Rhino Barges or use as causeways. Married to the bow ramp, the causeways would enable payloads to be delivered ashore from deeper water or where a beachhead would not allow the vessel to be grounded forward after ballasting.
Armament (varied with availability when each vessel was outfitted. Retro-fitting was accomplished throughout WWII. The ultimate armament design for United States vessels was
2 – Twin 40MM gun mounts w/Mk. 51 directors
4 – Single 40MM gun mounts
12 single 20MM gun mounts
Fuel Capacity Diesel 4,300 Bbls
Propulsion
two General Motors 12-567A, 900hp Diesel engines
single Falk Main Reduction Gears
three Diesel-drive 100KW 230V D.C. Ship's Service Generators
two propellers, 1,700shp
twin rudders