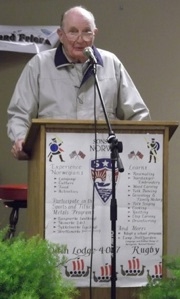 Olva and Gunhild Crone-Aamot had their only son, Olav, while living in Manhattan, New York, in January 22, 1929. They moved to Norway in 1936. His father was a metallurgical research engineer employed by Guggenheim Brothers. The family came to the United States in 1922, moved back to Norway in 1936 and settled in Ramstad, Baerum, now part of Oslo.
"The Paperclip", is a book written by Olav Richard Crone-Aamot that is about his experience as a young boy living in Norway while being Nazi occupied. "Oba" became obsessed with making trouble for the Germans who overpowered Rauoey Island when his father was an artillery gunner for the defenders and became captured and imprisoned by the Germans. Nazis enforced laws upon residents that were entrenching and overbearing. They would force their way through their homes to make sure residents were cooperating.
By the time, Oba's father returned 5 months after being imprisoned, food needed to be rationed. The family had to come up with ways to survive and Oba reveals his fascinating story in this book. Oba became a member of the Norwegian MILORG on April 9, 1940, the resistance movement to the German occupation and in 1945 a member of the Royal Norwegian Army. Then he became an interpreter for the Royal British Army. In January, 1947, He joined the United States Army as a European Enlistee at 17 years young. He attended and graduated from Officer's Candidate School. He served for 36 years retiring as a Lieutenant Colonel. During his 36 years, he directed 1200 partisans in operations behind enemy lines in North Korea during the Korean War and was in charge of producing strategic intelligence studies for J2MACV in Vietnam. He spent 26 years in Europe and 10 years in the Orient. He spoke six languages, wrote several manuscripts on Vikings and two manuscripts on German intelligence operations during World War II.
You can visit the "Sons of Norway" website to watch Oba talk about "Paperclip" and his family when he was a young boy. He and Carolyn lived in Fairmont when he passed in 2016 of Congestive Heart Failure at the age of 87.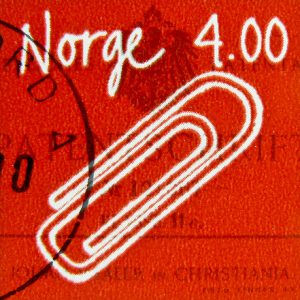 The paperclip was used as a symbol of
resistance during World War II. In the autumn of 1940, students at Oslo University started wearing paperclips on their lapels as a non-violent symbol of resistance, unity, and national pride.
Symbols related to the royal family and state had already been banned, so they came up with a clever way of displaying their rejection of the Nazi ideology. In addition to wearing a single paperclip, paperclip bracelets and other types of jewelry were fashioned, symbolically binding Norwegians together in the face of such adversity.
---

Resources
• The Sons of Norway