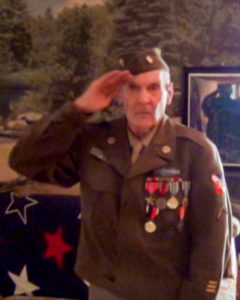 On a sunny afternoon in October, PFC Bernadine Dale Linn invited Mr. Kip Price into his home to speak with him about his years as a PFC after being drafted. He said he had just turned 93 years old on September 24th. He is originally from this area, Glady Creek, and still lives here today. His wife of 63 years, Mary Kirk, has passed and was also from Rock Creek, which is not too far from Glady Creek. He said, "She was a very good wife and we had a wonderful life together, and she could sing…She loved to sing and sung in many of the church choirs around here."

After being drafted, he had only twelve weeks of basic training and by 19 years young was already in war. He served in the Battle of the Bulge. At one point, he was in charge of 18 prisoners. They also built a camp- called Camp Chicago where they sent out equipment to fellow soldiers in need. Bernadine also worked with the Red Cross for about 3 months just before he signed on to stay for another year. Then he went back to Germany as an MP (Military Policeman) with the Military Police Corps. He said, "We traveled in pairs at all times and were only in charge of the soldiers- not the civilians." He said, "We traveled all over- Paris, France, Brussels, Belgium…all the large cities in Europe and seven different countries. I served from Aug 1944 – July 1946." Bernadine said he was with Army Company L, the 75th Infantry Division.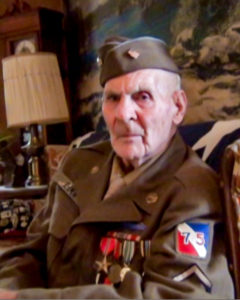 He said, "My captain was 6'8" tall, 280lbs and I was only 5'8" and weighed only 128lbs, and he called me 'Linn, my lil' man'. 'You're lil, you're fast, you're wiry, you're reliable and you're dependable.' He chose me to guard the radiomen that didn't carry weapons." He added, "After the war was over, he reassured me by letting me know that I never did let him down.
At times it was very cold. "One time it was -15°F and the snow was at least a foot deep in Germany. Our combat boots were old with rubber bottoms and leather tops. Our clothing kept us warm but our feet just froze. My feet are small. I wore a size 8 and the smallest shoe size they had was size 9. My feet froze and they treated my feet with motor oil- from my ankles down all along the bottoms of my feet. They changed out my socks, which I had worn for 3 weeks (because I had too), and gave me new shoes after rubbing my feet down with motor oil! They were careless about how we were dressed. They sent us with improper clothing", he explained.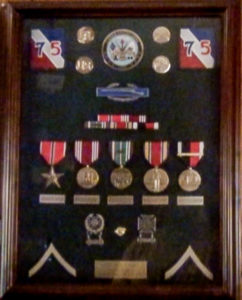 Mr. Price asked him to explain what all his medals were for. He said the bar on the top was the most important because it was his Combat Infantry Division Medal, which paid him $10 a month. "These other medals paid nothing, but were earned by action," he explained. He said that the Bronze Star was earned when they were pinned down just before the German Lines. The captain needed the radioman to call the Air Corps to bomb and the radioman couldn't because he needed a battery. "The captain sent me back 3 miles to get a radio battery but I didn't get it because they didn't have any either. So, I told headquarters the captain's request so they did it. When I was coming back, I saw two guys throwing stones at a white farm house, so I stopped and they said the German soldiers were up there signaling with a lantern and if I would've kept going, I would've been captured. He explained to me that my division returned and he would lead me to them," Bernadine said. Bernadine was led to a farmhouse cellar where the soldiers retired and he slept in a potato bin. As he began to drift asleep, he overheard the captain say, "That boy earned a bronze star today."
Bernadine said he was probably the most shaken when he was a messenger for the Fourth Platoon. He traveled back and forth from one artillery machine to the next. They had 5 machine guns on the front with 15 men and 1,000 feet back they had another 5 machine guns with 15 men in the back. There was a cemetery between the Germans and his platoon. The enemy whose intention was to capture and imprison an officer stopped him. He figured Bernadine wasn't an officer, but he still threatened him saying that he should throw him in the mausoleum where they would find his pile of bones 3 months later.